Just in time for all your digital scrapbook pages of the 2010 Winter Games is a collection of digital papers and elements that are color coordinated to match the colors used in the most recent Olympic games.
All elements are png files.
All backgrounds are jpg files.
Hold your mouse over the image and click.
Wait for it to fully open.
Right click and choose SAVE AS
Save the file to a folder on your computer.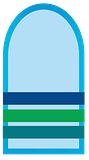 Area that appears blank just above is the white for this collection. Strip above shows all the solids in this collection.
There is a printable jpg 8.5 x 11 tag sheet available